When I first heard of Divine Mercy and the chaplet of Mercy, I was confused and thought why another prayer and what good is it going to be. 
Little did I know that, Jesus had plans to reveal Himself slowly but surely. When I was assigned to Kuala Lumpur, Malaysia for a year's pastoral exposure (as required by the seminary formation program) I was asked to help in a church inauguration ceremony. The name of the church was Divine Mercy, Shah Alam. It is the first church dedicated to Divine Mercy. I must say that I was attracted to the chaplet of Divine Mercy and for the first time I come to know who St Faustina is.  
Later on when I was in my final of seminary formation, I was assigned to Church of Divine Mercy, Singapore. It was a brand new church that was just opened about 2 months. There I had a closer insight of the relic of St Faustina, the chaplet rosary, her beautiful statue and much more. It was here in this parish that I was given the gift of the chaplet rosary with the third class relic. 
After ordination, I was posted to Church of St Anne, Bukit Mertajam but it was not for long there because God has other plans. Not long then I was transferred to the Cathedral of the Holy Spirit, Penang where Church of Divine Mercy was its outstation.  
After about 6 months, my Parish Priest took a 6 months sabbatical leave and i was left to manage both churches. it was then my love for Divine Mercy grew even deeper. I began to look at various means to promote the devotion and church as a pilgrimage centre.
I proposed to the bishop to lift up the status of the Church of Divine Mercy to a Parish and not just an outstation because of its growth and etc. Bishop requested that I look into the canonical process of it and soon he granted the permission to raise CDM to a parish. I was so happy for the people that they could finally called their church a home for themselves. 
Bishop also appointed me to be the first Parish Priest of CDM, Penang, and i humbly accepted though I know there is much work to be done as I have to build from scratch of the administration, faith formation, ministries, and various other facilities. 
I shifted to CDM on the 1st September 2013, I was installed as the first Parish Priest on 29th September 2013. When I moved into the church, I felt very strongly of something missing. Someones presence was not there. Yes Jesus was present but there is also a familiar missingness found. That's when it dawned on me that St Faustina needs a home here. I tried to search for her relic and find out how to apply and go about it.  
That's when also I approached the Parish Priest of CDM, Shah Alam, and ask him if I may borrow the relic of St Faustina to celebrate her feast here at CDM Penang on 5th October. He immediately granted it and together with two other parishioners we drove down to collect her relic. It was a tiring journey but it was worth it. On 5th October we celebrated her feast and all the parishioners venerated her relic. There were wide smiles and joyfulness on all the peoples faces. It was a historical moment to remember. 
Not long after that we were granted the relic of St Faustina for our own and at the same time we were also granted the relic of St John Paul II with both news arriving within a week apart.  
I came personally together with 20 parishioners to receive the relic of St Faustina. Such a beautiful place and encounter we had by celebrating Mass and venerating her relic there in that beautiful chapel. 
We are truly blessed with the presence of both of the saints and many personal revelation, miracles and healing has been taking place to those who visit this church. We are also grateful that we have been granted the Holy Door of Mercy in the year 2016.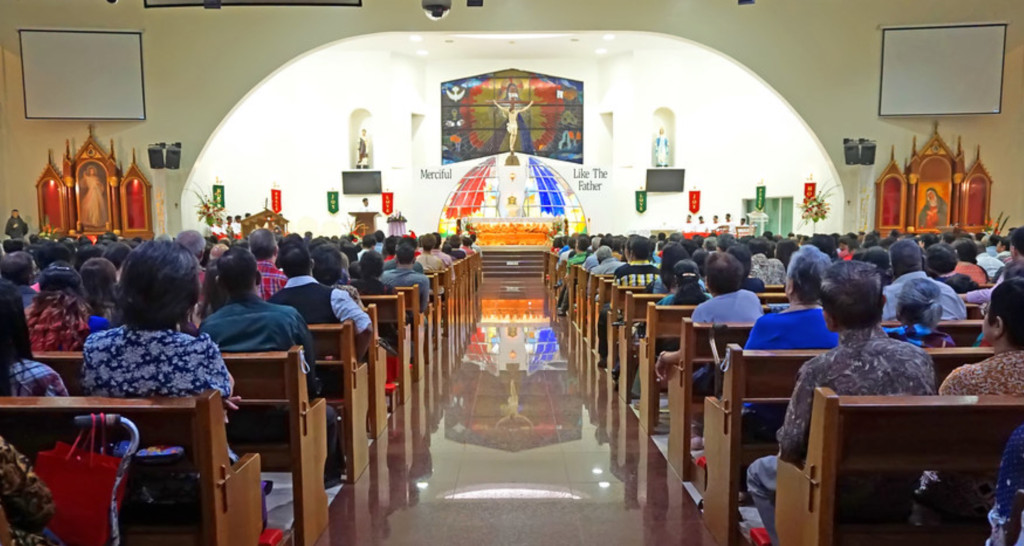 Last year we received another good news that we were granted the relic of Blessed Michael Sopocko. 
This year during the feast of Divine Mercy, we placed all the relics at the feet of Jesus and celebrated faithfully the feast with the theme Sent with Joy to Heal. 
St Faustina's presence is truly remarkable and has brought about a serenity of peace and prayerfulness. Truly she is magnificent in leading and teaching us to pray and surrender to the mercy of God. Many have been drawn closer to her and Jesus through her example of life. Everyday I'll post her dairy in the parish chat group for people to reflect and have a turnaround in their life. There are countless blessings and answered prayers through the diary. I can only thank God for using me to draw people to her and to a deeper life in Jesus. 
Now as it's time to move on in my life I wish and pray the next Parish Priest will continue to encourage people to devote themselves to the Divine Mercy through the intercession of St Faustina.  
Fr Martin Arlando
Parish Priest
Church of Divine Mercy, 
Penang, Maleysia