The Calling in Cynthia Leowardy's Family
The wonder of God's work can be seen in the formation of the Divine Mercy Apostles in Medan, North Sumatra, Indonesia. He bestows His Divine Mercy and Grace to poor sinners in Medan to three different people and three different encounters. The three of them work and struggle together with their own calling which later on they became united to be God's messenger in spreading the Good News and the Devotion of the Divine Mercy in Medan. 
God used Cynthia Leowardy's family, in Medan, Indonesia. This family always served God in various church activities and were very active in Charismatic Group activities in 1996 to 1997 at Pekan Baru. God gave His messages through one of the family members, that one day Cynthia Leowardy will be chosen to work in His Field and become the pioneer of God's Army, but she did not pay much attention to the said messages. 
In July 1998, Cynthia Leowardy's family moved to China for three years because her husband, Peter was sent to work there by his company. Within these years she actively involved herself in doing God's works in China. And due to her husband's work they moved again to Singapore in 2001. 
In July 2004, the family migrated to Canada where they lived next door to Cynthia's sister. For several years the two sisters did not pay much attention and never talked about the messages they received in 1997, but the messages were kept in Cynthia's heart despite her confusions and the difficulty to fathom God's messages. 
God Called Her Name "Cynthia"
In 6th of October 2005 when Cinta Prayer Group (the name "Cinta" means "Love" and this name was taken from the Book of Song of Songs 2:4) was in deep prayer, one of the ladies, Isabela Lianto received a message that says, "Cynthia My child, come back to Me!" And in October 26th, another message was received saying, "Cynthia My child, where are you, come back to Me!" After receiving these messages twice they wondered of who and where they can find this Cynthia for there are many similar names in their place. They asked Father Marcellinus Manalu, OFM, Cap. if he knew a person named Cynthia residing in Indonesia, but he said that the only Cynthia he knew was not in Indonesia any-more. Thank God, after several deep prayers, they finally realized that 'Cynthia' was the lady who moved to Canada several years ago. Then they began to search for her, and tried to get Cynthia's contact information. This Cinta Prayer Group is God's manifestation of His love and mercy because through their deep prayer God's messages were revealed. 
The communication started but Cynthia refused it because it might be another Cynthia for she knew that she was already serving God here in Canada. She suggested the ladies to look for another Cynthia. The Cinta Prayer Group felt a bit down after they heard Cynthia's response to their inquiry. Then the Head of Cinta Prayer Group, Ms. Regina asked all the members to pray harder in order to make sure whether they have found the right 'Cynthia'. 
After refusing to the call, Cynthia became restless. On the 8th of December 2005, she decided to go to a pilgrimage in Marmora, Ontario, Canada and visited Mother Mary, Our Lady of Marmora to confirm the messages she received from her sister Gloria and from the Cinta Prayer Group in Indonesia. And she said to Mother Mary, "if this message is really for me, please give me another confirmation. '' And on the 9th of December 2005 early in the morning, she received a confirmation from Medan that truly she was the one they were searching for. Filled with awe Cynthia was crying and with humble heart knelt and asked God for forgiveness. 
Cynthia cannot resist God's call but she had to stay and attend to her youngest daughter, Astrid Priscilla Chang's health condition. She got an Anorexia sickness and it worsen in the later months. In relation to Astrid's sickness Cynthia realized that maybe it was connected to the call of God for her. 
She went to seek for an advice from Father William Trusz (nickname – Bill) in Hamilton, Canada to verify the messages she received. She told Father Bill how the call started, the messages, the sickness of her daughter and after all the sharing, Father Bill told her that, 'Yes', they are all related. He told Cynthia to pray sincerely from the heart and to ask God to touch the heart of her husband allow her to go back to Indonesia and follow the will of God for her. 
The Discernment Period
Through the guidance of Father William Trusz in Hamilton Ontario, Canada and the sharing of Brother Nestor Buendia about the life of Saint Faustina and her devotion to the Divine Mercy urged Cynthia to know more about the Divine Mercy. Cynthia together with her husband, Peter Chang travelled to the National Shrine of the Divine Mercy at Stockbridge Massachusetts, USA. They met with Father Seraphim Michalenko, MIC and Father Kazimierz Chwalek, MIC for the confirmation of the messages. 
The First Miracle in Cynthia's Family
In the beginning, Cynthia's husband, Peter Chang strongly disagreed with Cynthia's desire to go back to Indonesia. Peter said that it was not a wise idea to go back again to Indonesia after all the difficulties and challenges they have encountered in immigrating the entire family to Canada. They are all well settled in Canada during that time and for Peter there was no reason for them to go back again to Indonesia. 
Peter insisted that God is omnipotent and Cynthia can serve God in any place in North America not necessarily to be in Indonesia. 
In August 2006, Peter was sent to Indonesia for work. He stayed at a hotel. While there he prayed very hard for the healing of her daughter whose illness is worsen and her body weight was deteriorating from 55 kg to 35 kg. At two in the morning, he woke up from a deep sleep and he heard a soft voice from very far away, saying, "Peter, you must allow your wife to do my job." Then in a very loud voice he heard it again, " You must allow your wife TO DO MY JOB!!! " Peter jumped off from his bed sweating. He was anxious because he was sweating in an air-conditioned room, the back fist of his left hand was bleeding, he felt the pain and the blood overflowed in the bed sheet. He tried to find out the cause and how he got the wound. There was no sharp object around his king size bed because he was in a nice 4 Star Hotel. The mark of the wound can still be seen today. Peter called Cynthia who happened to be in Hamilton, Ontario at Father William Trusz's office around three o'clock in the afternoon. Peter told Cynthia of what had hap-pened to him except the bleeding on his left arm. Peter said to Cyn-thia, "If God can heal our daughter from Anorexia, I will allow you to go anywhere and in Indonesia to do His Will. SO BE IT." 
The Miracle happened the next day when their youngest daughter Astrid woke up in the morning screaming in her bathroom saying, 'Mom, why do I look so terrible and skinny? All the time they were telling her that she must eat, she was killing herself, she had lost her monthly period for two years due to hormone imbalance and gain not enough nutrition. But she ignored, she always said there was a voice telling her not to eat. Most of the Anorexia teenage girl TV Interviews were saying the same story, "they do not feel that they loose so much weight and they all said there was a voice telling them not to eat. 
It was a real Miracle that Peter allowed Cynthia to go to Indonesia to respond to her call. Since then, Astrid started to have an appetite to eat. She began to gain weight from 77.16 pound to 103. 61 pound and finally healed and became a healthy woman. She got her monthly period back and was back to her normal daily routine. She is doing her Fashion design and Online Business. 
After allowing Cynthia to do God's work in Indonesia, a lot of questions continue to stirred in Peter's mind like, "What work she will do in Indonesia?" "Is it only a Group Prayer Meeting or is there something else?" Even Cynthia had the same thing in mind. She entrusted everything to God through prayer and allowed herself to be surprised of what awaits her in Indonesia. 
Responding to the Call & the Coming Home
When Cynthia arrived in Medan, she joined the prayer meeting of the CINTA Group. One of the members prophesied, "The harvest is great, but the workers are few," just like of what Jesus said in the Gospel of Matthew 9:37 and Luke 10:2. At that moment Cynthia shed tears because she knew that this prophecy is a word from God Himself and He gave this as a reminder for her. 
After being away for several years in Medan, Cynthia paid a visit to His Excellency Archbishop A.G. Pius Datubara OFM, Cap and Father Marcellinus Manalu OFM, Cap, and informed them about the mission which God called her to do in Medan. They were happy to know and see each other and after discussing the matter the bishop approved the mission. Father Marcellinus exclaimed, "Cynthia is a messenger sent by God to Medan!" At that time Father Marcellinus' health was failing and Cynthia assured him of her prayer. She said that God will heal him for he will still be needed for this big project.
Cynthia is back to Canada and relayed to Brother Nestor everything that had happened in her first visit to Medan. In that short meeting Nestor presented to Cynthia the fifteen minute presentation about the Life of Saint Faustina and the History of the Divine Mercy. After the presentation Cynthia ex-claimed, " Wow this is what God wants me to bring in Indonesia!" and generously, Nestor provided Cynthia the copy of the entire presentation? Nestor brought his team from Hamilton to Cynthia's residence to do the detailed presentation of the Divine Mercy for her whole family. 
After Astrid Priscilla was completely recovered from Serious Obsession Anorexia, she became interested to participate in the Novena to the Divine Mercy. Astrid declared herself completely healed and told her mother not to worry about her health anymore. Astrid said, "Jesus is waiting for you mom in Indonesia." 
Since then Peter said that Cynthia can decide the time of her schedule when to go to Indonesia. It was amazing that God's miracle happened according to His plan. Through the Power of the Divine Mercy Astrid was healed, Peter changed his heart and started to listen to God's call for Cynthia to do His missions in Indonesia. 
In early January 2007, suddenly Cynthia received a call from Father Marcellinus telling that he came from Penang and in sad voice told her the his doctor cannot give him any further treatments for his Lymphoma cancer and he was asked to go back to Medan. He was given two to three months to live.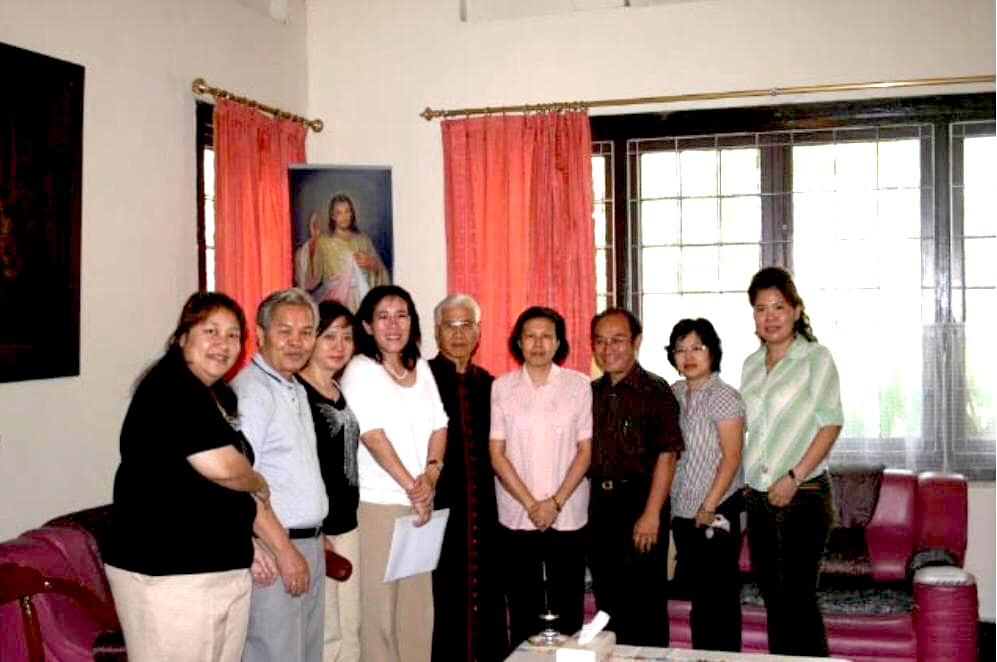 Cynthia consoled him telling not to be sad, "we still have Jesus, the Great Doctor. "She told him about the powerful prayer of the Chaplet of the Divine Mercy. Since Father Marcellinus had no idea about this prayer he promised her to seek for more information about the Divine Mercy in Jakarta. 
Cynthia felt sorry that she was not able to give Father Marcellinus a copy of the Chaplet of the Divine Mercy on her first visit to Medan. He read the book about the Divine Mercy and he understood it. After that, both of them agreed to start the Nine Days Novena to the Divine Mercy at three o'clock in the morning in Canada where Cynthia resided and three o'clock in the afternoon in Medan where Father Marcellinus lived and do the fasting for his recovery and healing. 
GOD is Great! GOD is Good! Because after the Novena of the Chaplet, a miracle happened to Father Marcellinus. He slowly recovered and become healthy again. After he regained his health, Father Marcellinus had a mission to fulfill. That mission is to spread the devotion to the Divine Mercy in North Sumatra, Medan and share it to other provinces in Indonesia. That was the ultimate purpose of Cynthia back to Indonesia. 
Early in Lenten season of 2007, after receiving the Holy Communion, Cynthia heard a Voice that said: 'Tell Father Marcellinus to start the Novena of the Divine Mercy on Good Friday until the day before the Feast of the Divine Mercy Sunday. After the Feast, Jesus wants him to start the Devotion to the Divine Mercy in Medan, beginning from Kristus Raja Church and spread to other parishes and around North Sumatra." At that time, she didn't inform Father Marcellinus because she was not sure about the situation in Medan, whether they already had the devotion and the celebration of the Feast of The Divine Mercy. But two weeks before Holy Week, after receiving Holy Communion Cynthia heard the voice again, "Have you conveyed My message to Father Marcellinus?" (the Voice was very loud and clear). 
The First Celebration of the Feast
 

of the Divine Mercy in Medan

 

Cynthia meditated on the messages. She prayed to God to confirm it again if the messages really need to be conveyed to Father Marcellinus. Later she picked up the Diary of St. Faustina and opened it, when she opened the book, she saw the sentences in number 635, that says, '…….. Speak to the souls about this Great Mercy while it is still the time for [granting] mercy. If you keep silent now, you will be answering for a great number of souls on the terrible day. Fear nothing. Be faithful to the end ….' after seeing these, she felt extremely afraid and immediately she phoned Father Marcellinus. Thankfully he humbly accepted the messages without any question. Cynthia sent him all the materials and Images of Divine Mercy and helped him with the process by sending letter to the bishop and request for his approval for Father Marcellinus to start the Novena and celebrate the Feast of The Divine Mercy Sunday and spread the Devotion to all the Churches in the Archdiocese of Medan. 

The CINTA Prayer Group was appointed to be the servant of God in helping Father Marcellinus to arrange the Novena on April 6th 2007, Good Friday in Kristus Raja Church followed by the celebration of the Feast of the Divine Mercy on April 15th 2007 at Kristus Raja Church, Medan, North Sumatra, Indonesia. This celebration was the First Feast of the Divine Mercy Sunday all over Indonesia. 

After the first celebration of the Feast of the Divine Mercy in 2007, the devotion spread throughout the entire country up to this time. His Excellency Archbishop Anicetus B. Sinaga, OFM, Cap. proclaimed that the Novena follow by the Feast of the Divine Mercy must be celebrated annually in the Archdiocese of Medan. 

Father Marcellinus didn't stop at all, he eagerly shared his experiences of God's Mercy to everyone. Cynthia Leowardy kept on sending updated presentation of the Divine Mercy that she received from Bro. Nestor Buendia from Hamilton, Ontario, Canada and Father Francis Hubilla OSB (Spiritual Director), and all the books/materials under the guidance of Father Seraphim Michalenko, MIC & Very Rev. Kazimierz Chwalek, MIC from National Shrine of the Divine Mercy in Stockbridge, Massachusetts, United States. She also had to go back and forth to Indonesia every two to three months for the assignment of spreading the Divine Mercy in Medan with Father Marcellinus Manalu OFM, Cap, together with CINTA Group. Father Marcellinus wanted the Apostles of the Divine Mercy to be well prepared and have a deeper knowledge about the Divine Mercy by learning the Diary of St. Faustina from all the materials sent by Cynthia. In line with this they are called to do the Corporal and Spiritual works of Mercy. After being approved by Archbishop Anicetus, they began to spread the good news of God's Divine Mercy throughout Sumatra from the Archdiocese of Medan, North Sumatra (Aceh, Pematang Siantar, Sibolga, Pangaribuan, Parapat), to West Sumatra (Padang) and many other provinces included Java, Kalimantan, Eastern Indonesia, Bali etc. 

The 1st Apostles of the Divine Mercy was inaugurated on March 30, 2008 on the Feast of the Divine Mercy Sunday. The Second Feast of The Divine Mercy was celebrated in Medan. 

After Father Marcellinus did exactly the will of God and fulfill the mission entrusted to him and appointed a successor to continue Holy assignment the Heavenly Father, Almighty God called Father Marcellinus last March 19, 2009. God always have His own Ways to fulfil His job. 

Cynthia together with the Apostles of the Divine Mercy through the guidance of Father Augustinus Yew, OFM, Cap., the present Spiritual Director Father John Rupinus, Saragih, OFM Cap., continue in spreading the devotion to the Divine Mercy and do the works of Mercy until they have been chosen to Celebrate the Third Asian Apostolic Congress On Mercy (AACOM) in Medan on October 14 – 16, 2015 attended by nineteen Countries from all over Asia and USA, Canada, Poland, and France. 

His Excellency Kornelius Sipayung OFM, Cap., is the present Archbishop in the Archdiocese of Medan who continuously fully support the Devotion to the Divine Mercy and the construction of the Shrine of Jesus, The Divine Mercy Mountain at Kabanjahe, North Sumatra, Indonesia. (Can be read in the article of Promised Land). 

All the above achievement is for the Glory of GOD. 
JESUS, I TRUST IN YOU.