Drawing from the Wellspring. An introduction to prayer in daily life
Tadeusz Kotlewski
SJ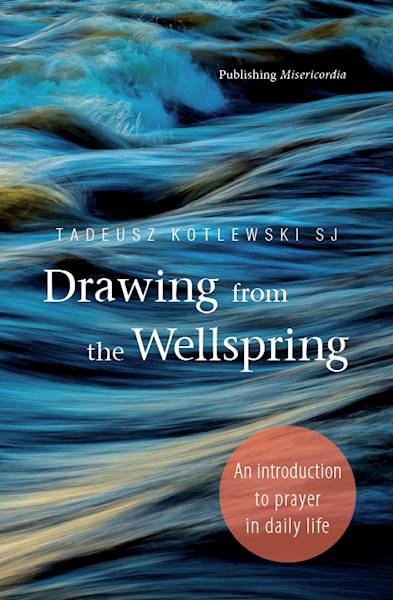 Dra­wing from the Wel­l­spring is a pro­po­sal and enco­ura­ge­ment to enli­ven your faith and pray­er. This book is not meant to be a hand­bo­ok on how to pray but rather a small guide on the path of deve­lo­ping your per­so­nal pray­er. We know that it is not the amo­unt of the mate­rial stu­died that enco­ura­ges and fosters pray­er but rather an indi­vi­du­al deci­sion to enter on its path. We tend to per­ce­ive pray­er as being very dif­fi­cult, espe­cial­ly the pro­lon­ged one. Yet, it may beco­me a sim­ple way to God and to other man, if only it is prac­ti­ced with hum­ble­ness, coura­ge, sim­pli­ci­ty and natu­ral­ness.
An Intro­duc­tion to daily pray­er is meant to assist in our jour­ney to deri­ve from the Wel­l­spring, to feel the spi­ri­tu­al taste and joy ari­sing out of the meeting with God.
Together or Apart. A challenge of the Christian community
Tadeusz Kotlewski
SJ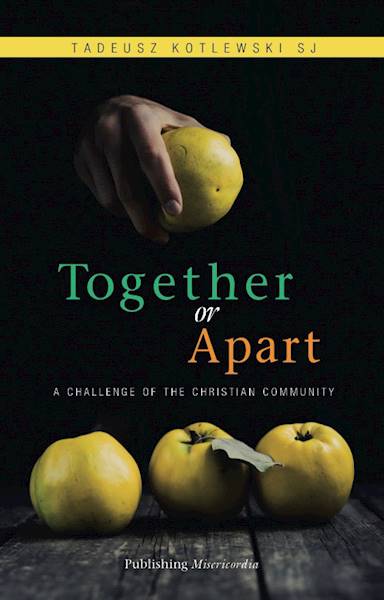 Chri­stian com­mu­ni­ties live by one, and only, radi­cal pas­sion – to fol­low Jesus Christ. It is He who calls and invi­tes into a com­mu­ni­ty, it is He who sends the Mes­sa­ge. It is God, not man, who cre­ates the Chri­stian com­mu­ni­ty. Deve­lo­ping a bond with Him cau­ses human bonds to grow stron­ger, more genu­ine and respon­si­ble. It is undo­ub­te­dly a spi­ri­tu­al path which can­not be wal­ked alo­ne. The­re­fo­re we need to walk toge­ther in order to car­ry out God's Mer­cy by the power of the Holy Spi­rit.
Loving Yourself in the Depths of Your Heart
Tadeusz Kotlewski
SJ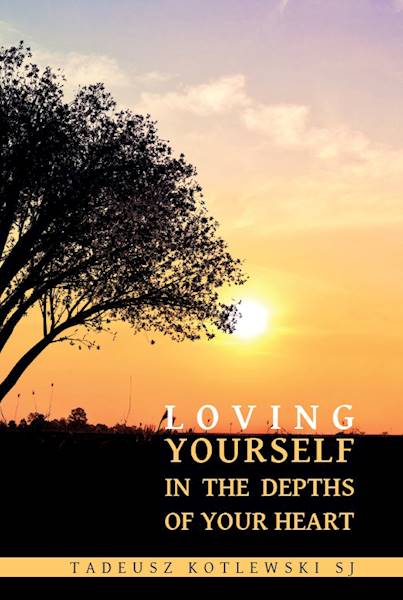 In order to tru­ly love our­se­lves, we must enter our most inti­ma­te hearts, we need to find our­se­lves within us so that we may disco­ver the Sour­ce of Love the­re. This Foun­ta­in is so often hid­den by the tro­ubled and pain­ful events that take pla­ce in our lives. We can disco­ver real Love, God Him­self, only by ente­ring our hearts. We will be able to love our­se­lves with this gre­at Love and disco­ver our digni­ty, and we will be able to love others—to care and feel respon­si­ble for them. This Love lets us give due reve­ren­ce to God, whom we serve and whom we yearn to love with all our hearts. This is the path of the heart!
The Merciful in Everyday Life. Reflections with Saint Faustina
Sr. M. Alicja Zelmańska
ZMBM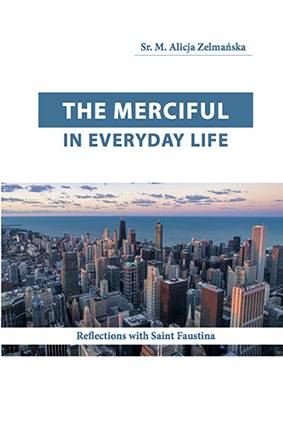 What can we do so that the Divi­ne Mer­cy is mani­fe­sted in our enti­re being, per­me­ating our tho­ughts, words and acti­vi­ties? How to be mer­ci­ful not only from time to time, during signi­fi­cant life events or acts of cha­ri­ty, but "always and eve­ry­whe­re" in our daily life. This book attempts at fin­ding answers to the­se questions with an aim to enli­ven, deepen and streng­then the spi­rit of mer­cy towards all tho­se whom we meet each day on our paths of life.
Saint Fau­sti­na under­sto­od well that human mer­cy par­ta­kes of the Divi­ne Mer­cy, the­re­fo­re it demands con­stant com­mu­nion and pro­fo­und uni­ty with Jesus – the Sour­ce of Mer­cy not only during pray­er but in all events of daily life. Her life reve­als how impor­tant it is for the sha­ping of the atti­tu­de of mer­cy to disco­ver in our heart the pre­sen­ce of God – the Sour­ce of Mer­cy and to com­mu­ne with Him thro­ugh love. By uni­ting with Jesus, by con­stan­tly ado­ring and con­tem­pla­ting Him in the inner­most dep­ths of her heart, Saint Fau­sti­na lon­ged to be His living ima­ge and wished to be trans­for­med enti­re­ly into His mer­cy. Her pray­er Help me, O Lord is an expres­sion of this strong desi­re bur­ning in her.
14
ways to do works of mercy
Sr. M. Diana Kuczek
ZMBM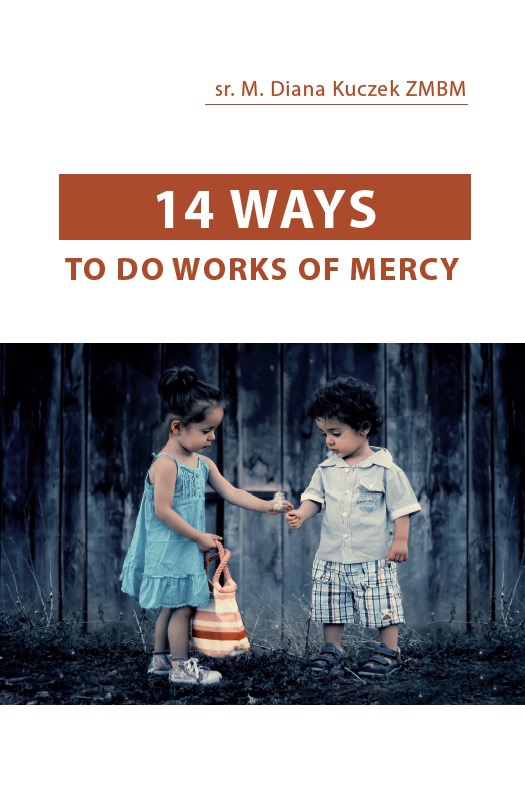 "For we are God's han­di­work, cre­ated in Christ Jesus to do good works, which God pre­pa­red in advan­ce for us to do." (Eph 2: 10). This awa­re­ness fills me with joy. I am a per­son cre­ated by God. Saint Paul wri­tes:" I am His cre­ation". Good and mer­ci­ful God appo­in­ted me, so that I have my sha­re in the love of the Holy Tri­ni­ty and love myself and my bro­thers with the love which He Him­self poured into my heart. How good is Almi­gh­ty God! How much He has tru­sted me! Jesus desi­res that my faith and love be expres­sed in deeds. Befo­re the ages began, I had been pre­pa­red and sum­mo­ned to ful­fil this mis­sion, so that the will of the Father who desi­res my hap­pi­ness and salva­tion be ful­fil­led in this way.
Never­the­less, it is with gre­at appre­hen­sion that I look at the con­tem­po­ra­ry world full of rela­ti­vism, con­sump­tio­nism and con­for­mism. I often think that the world of valu­es belongs to the past, whe­re­as sub­jec­ti­vism and indi­vi­du­alism keep direc­ting me towards my needs only. The histo­ry of sin and evil con­ti­nu­es cease­les­sly, win­ning over new fol­lo­wers. The power of evil seems appal­ling and over­whel­ming. Still, I do not lose hope in God's mer­cy. Jesus rede­emed me in the work of salva­tion, accom­pli­shed in the pas­sion and death on the cross, but He rose aga­in the third day.
The vic­to­ry in on the side of good, on the side of the Almi­gh­ty God. I am looking for the methods to sha­re the mer­cy I have expe­rien­ced in my life… I can enu­me­ra­te at least 14 of such works com­pri­sing: 7 cor­po­ral and 7 spi­ri­tu­al works of mer­cy. With Saint Fau­sti­na I embark upon a jour­ney to meet God in my bro­thers and sisters with an aim to beco­me ful­ly human.